Academic Year 2018/2019
Bookings for 2018/2019 will open in the new year
Please check the website for updates from Mid-January
(New incoming CAO students will not be able to register online wth us until bookings have opened)
You can also follow us on Social Media for instant updates:
Facebook: CampuslifeservicesUL
Twitter: AccommodationUL
Snapchat: ULAccommodation
Off Campus Information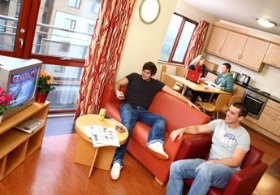 Please view our Off Campus page for information on off campus housing
This also includes a live link to available accommodation off campus
UL Resident Assistants
The Resident Assistants from University of Limerick explain what is like to be an RA on such a beautiful campus, working to ensure that our students have an amazing experience while staying in residence and what the benefits of working with our Village teams are.
Campus Life Services aims to reduce our carbon footprint on the environment through engaging students in a number of environmental initiatives throughout the term. We are very fortunate in that our campus is located on a beautiful parkland site bordering the river Shannon. Read more.